If you're between the ages of 18-25, you're probably asking some of the same life questions teens are asking. And your response might be, "Hold up. I already went through that phase."
There is new research indicating emerging adults go through a similar identity exploration process, much like teens experience. "Emerging adulthood is proposed as a new conception of development for the period from the late teens through the twenties with a focus on ages 18-25." It's a time to reevaluate some of life's big questions, such as "Who am I?," "What decisions are mine to make?," "Where and with whom do I fit in?," and "What is my trusted source of truth?" [1]
Working at camp invites opportunities to answer those questions. With new experiences both learning and leading,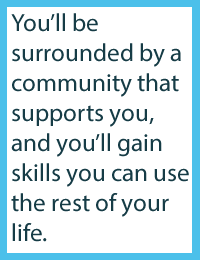 rubbing elbows with coworkers from different walks of life, and doing work with a purpose, working at camp can be a significant contribution to this developmental stage of life. You'll be surrounded by a community that supports you, and you'll gain skills you can use the rest of your life.
Spending your summer in a camp setting isn't just for teachers or those going into ministry. Whether you get to be a lifeguard, a videographer, wrangler or camp counselor, camp offers real-world experiences to help you develop as a leader.
Camps are hiring, and they are looking for students like you. Go to FindACampJob.com.
[1] Matlock, Mark. "Pulse on Next Gen" presentation. Dec. 4, 2017.