Some summer jobs require clocking in, sitting behind a computer screen and wheeling around in an office chair for the majority of the day. What if you could choose a different way to spend your summer? What if waterfronts and backwoods were your office instead?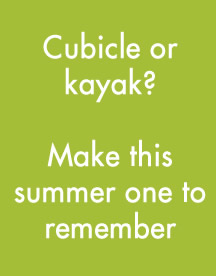 Serving at summer camp allows you to be outdoors—and get paid. Sunrises and sunsets become backdrops for your day-to-day activities. You can land a job as a horse wrangler, boat driver, ropes course staffer or an outdoor educator. Going outside is a job requirement, which can benefit you greatly.
Researchers have studied the positive effects of nature for years, noting anxiety levels decrease and temperaments improve just after 30 minutes outdoors. Doctors instruct their patients in ecotherapy to focus on the sounds of birds chirping, visuals of trees and leaves, and sounds of streams and rivers to alleviate stress and improve their immune systems.
If just 30 minutes makes a difference, imagine how spending an entire summer outside might change your life. Imagine:
Fewer distractions from technology
More physical activity
A stronger immune system
Greater brain cognition
Lower levels of depression and anxiety[1]
Don't waste your summer indoors. Work at camp. Your future self will thank you. Apply at FindACampJob.com.
[1] https://www.nbcnews.com/health/health-news/dose-nature-doctors-prescribe-day-park-anxiety-n823421