When you travel to new places, your sense of wonder comes alive. Your eyes scan the landscape, taking in new sights, tracing every building and tree. There's a newness, a kind of mystery about traveling to a new place. You know you're going to discover something you haven't ever seen before. You're keenly aware of your surroundings, and you're reminded that place matters.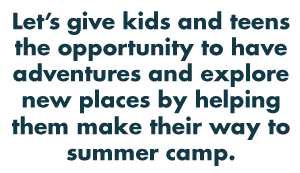 For many, the last year or so has limited lots of activities and travel. It's been a challenging time for all of us, especially our young people. Let's give kids and teens the opportunity to have adventures and explore new places by helping them make their way to summer camp.
Many camps are opening up, and they're ready to welcome campers and guests to their properties. These are some of the most stunning locations in the country, surrounded by nature on every side. Whether children and adolescents have been going to camp all their lives or will attend for the first time, there's always something new to discover when you're outdoors. This year in particular camp staff have been sprucing up their grounds and facilities in preparation for the time when campers can return. They know place matters.
As the young people in your life dream about their summer plans, encourage them to consider camp. Help them trade their familiar spaces for new ones, igniting curiosity and a desire for adventure. Author Mark Batterson says, "A change of pace plus a change of place equals a change of perspective." And what a gift that would be for today's youth.
Check out thepowerofcamp.com to find a camp for this summer!